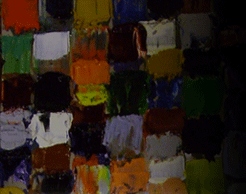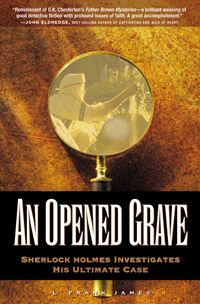 Description of Book
In the midst of retirement, Sherlock Holmes is lured into what he believes to be a simple missing-person case. While investigating his new case, an apparent miracle saves his life and causes him to begin to question his own world-view. His client, the lovely and devout Miss Elizabeth Hackberry, offers him an explanation for the life-saving miracle, an explanation that challenges all that he knows and believes.
In his attempt to prove or disprove Miss Hackberry's belief that God was the one who saved his life, Holmes reaches the conclusion that he must personally investigate the most controversial, ancient mystery of all time - the death and resurrection of Jesus Christ.
As a result, Holmes and Dr. Watson set out on a dangerous journey to Jerusalem. Along the way they face imprisonment, scoundrels, slavery, starvation, hostile sheiks, and a treacherous villain who turns their journey into a cat-and-mouse game.
An Opened Grave is a book that most likely will find its way into the hands of doubting friends and family members of the Christian audience. The story draws us into an ongoing debate between Holmes and Watson as they attempt to rule out the impossible, and leave us only with the Truth. Though it is not intended to be a treatise on apologetics or doctrine, An Opened Grave credibly and respectfully addresses most of the popular and philosophical objections to belief that are held today.

Frank's first novel has received international acclaim from both
CBA and ABA reviewers. Below are a few notable comments



"A wonderful combination of language, mystery, theatre, and apologetics. It's witty, pithy, earnest, creative, and God-seeking. Reminiscent of G.K. Chesterton's Father Brown Mysteries. A brilliant weaving of good detective fiction with profound issues of faith. A great accomplishment!" -John Eldredge, best selling author of Captivating and Wild At Heart

"Like GK Chesterton and CS Lewis, Frank James is a fine storyteller... Unusually well done" -The Sherlock Holmes Society of London as reviewed in The District Messenger

"Fans will appreciate this well written, entertaining and unique spin" -Midwest Book Reviews

"Mr. James does and admirable job... Overall, it's an impressive accomplishment. Recommended." -Christian Fiction Reviews

"Anyone who loves Sherlock Holmes detective stories or who would like to share a sharp intellect's grappling with the profoundest of religious mysteries will enjoy and learn from this book." -Alan J. Couture, ForeWord Magazine

"Frank James is one of the most creative and engaging writers I have ever met." -Hugh Ross, author of The Creator & The Cosmos